[Updated 2020] Top 10 MacBook Air Cases For Any Budget & How To Pick a Case
Posted by CANDY HO
(Updated January 2020) Looking for inspiration for the perfect gift for your friends and family? We bring you a list of "Top 10 MacBook Air Case For Any Budget" so that no matter what budget you have in mind, you can make your decision faster and spread love.


Being such expensive, MacBooks need to be handled with so much care. You would definitely want to protect your daily life tool, and tell you what it doesn't have to be very expensive. In this blog post, we will be giving you the best top 10 MacBook Air cases available in online stores.
If you have any doubts on why you should use a MacBook Case, we have covered this topic in our previous blog.
As no devices are under the warranty for accidental damage, it would be your nightmare if you accidentally drop your MacBook or have some serious scratches. To help you protect and get a good & budget-friendly MacBook Air Case let us guide you through the list that we made for Top 10 MacBook Air Cases.
We included the best options we could find for all types of budget - for those who wants to splurge a little or buy a memorable gift, for those who are practical and enjoys a great value for money, and for those who love a great deal (who doesn't?), there the gift guide has it all.
2020 updates include - price updates, MacBook Air model compatibility updates, customization availability updates.
1. Real Wood MacBook Cherry Case (Alvin Industries)
Budget: High
Price: Around $100 with personalization
Key features: Alvin Industries MacBook cases are made with sustainable real wood materials.
Customization Availability: Yes
Alvin's products are as unique as their owners are. Alvin Industries was started by the couple Alex and Kevin. They both share the same affection and passion towards design and fabrication and loved the idea of everything wood and believe wood should be on everything. This is what inspired them to create Alvin (Alex+Kevin) which creates real-wood cases, having the best protection for your MacBook.
Without their case, this list is indeed incomplete. Real Wood MacBook Cherry Case looks fabulous on the MacBook. The product is 100% made from wood and all of them have different patterns resembling the characteristics of wood.
These cases are the first of their kind and made from the finest sustainably sourced woods available, the cases provide durable protection without compromising on aesthetics.

All of the Alvin Industries MacBook cases comes with a top and bottom, providing all round protection. The bottom has bumper feet and ventilation so your MacBook does not overheat.
2. Incase Hardshell Case for MacBook Air 13" Dots
Budget: Affordable
Price: Around $50
Key features: Hardshell MacBook cases feature minimalist and slightly textured designs.
Customization Availability: No
If you are after authenticity, style, protection & convenience Incase Hardshell MacBook Air Case is your thing.
Designed for your MacBook Air, this case features a resilient polycarbonate construction that provides solid protection without restricting access to your device's ports, lights and buttons.
It's much easier to remove it and put back on for cleaning. However, cleaning isn't that all necessary because it protects your MacBook from dirt, debris, moisture. Overall a good case and it will also protect your MacBook from any outer damage.
3. SlickCase Marble MacBook Air Case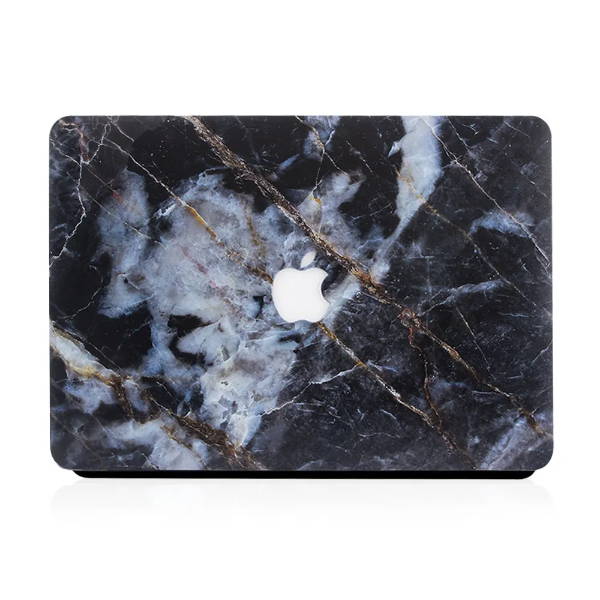 Budget: Affordable
Price: Around $50
Key features: Finely printed protective MacBook cases with 125+ unique designs to choose from.
Customization Availability: Yes, in a separate collection here
SlickCase Marble MacBook Air Cases are always ready to give a premium look. Famous for its artistic styles, fine high-definition laser printing and durable protective materials, Slick Case launches new fresh designs every month in a wide range of styles including its signature Marble Collection, Floral Collection, and Geometric Collection. Their Marble MacBook cases collection is one of the best-selling prints, and our top pick at SlickCase.
Having probably the most comprehensive collection of high-quality Marble tech accessories, Slick Case makes marble MacBook cases in numerous colors and textures - black, white, pink, gold and even glitter marble! The case has a textured matte feel just like marble, which is extremely satisfying all the times. If you are after a case that matches your daily life, brings more attraction and is a source of inspiration for your Instagram then look no further as this case fits you perfectly.
This case doesn't bulk up your MacBook and proves itself to be very classy. This case is just 1mm thin and has a weight of 0.5 lb making it a sleekest & lightweight case having the ability to protect your Mac from cracks, shocks, scratches or any outer damages.
4. Casetify MacBook Air Cases
Budget: Affordable
Price: $55
Key features: Artistic cases with no Apple logo cutout.
Customization Availability: No
Design is what inspires Casetify and moves further to have a global outreach. Casetify has a wide array of artistic prints and they are collaborating every day with a new influencer to bring their audiences the personalized feel.
So if you have been following someone you're obsessed with the chances are very high that you might feel welcomed with their collaboration.
Their cases are clear, lightweight while offering drop and scratch protection. Their MacBook Cases will never disappoint you as they have at least one design for every kind of person. If you are looking for some creative, design or crispy, charming look for your Mac, head over to Casetify.
Budget: Affordable
Price: $54.95
Key features: Slim, transparent MacBook case with Apple logo see-through.
Customization Availability: No
(2020 Update) Moshi has discontinued their iGlaze MacBook cases for MacBook Air 13 inch (2010-2017) models, but are still available for newer MacBook Air and MacBook Pro models.
Ultra-thin and light Moshi iGlaze cases are available for every MacBook models.
Although it's so thin and light, it provides the very good care to your Mac, shielding it from scratches and offers extra protection from any unfortunate slip.
The reason you should consider Moshi is they provide warranty on their products making you further secured with your investment.
6. iCasso - 2 in 1 Wooden Pattern Rubberized Plastic Hard Case + Keyboard Cover for MacBook Air 13
Budget: Budget-friendly
Price: $15.99
Key features: Matching wood print MacBook case & MacBook keyboard cover at an affordable price.
Customization Availability: No
Do you love wood but don't want the weight or do have the budget for a real wood MacBook Air case? Here's a gift set for MacBook Air owners that looks like the real thing (it even comes with a MacBook keyboard cover with matching prints!) but won't break the bank!
Here's your deal, iCasso MacBook 2 in 1 Wooden Case provides you the trendiest look for your MacBook Air with an easy snap-on design, easy on, easy off. If you use your device for a long period of time, as the case is fully vented, it helps it cool down. This wooden-pattern case is bound to offer the type of protection you're after.
There is beauty in the details of MacBook cases that are made with real wood, but let's be honest, it's gonna weigh a lot more. This wooden pattern MacBook accessory set is a great compromising option and budget friendly!
Budget: Budget-friendly
Price: $14.99
Key features: Slim, semi-transparent clear MacBook case with MacBook keyboard cover.
Customization Availability: No
Yet another very affordable gift set option for MacBook Air owners. ProCase highly deserves to be in the list of Top 10 MacBook Air Case with their lightweight and slender design. Its rubberized coating is designed to offer you a perfect grip and stability no matter what surface you use your laptop on. ProCase also provides the snap on feature making it much easier to snap on and take off.
Its minimal, semi-transparent design allows the Apple logo on your Mac to be seen and the best thing about simple, minimalist designs is that you can be sure that your MacBook Air will never go out of style with this case!
This is a great, affordable gift set option and a very affordable option
8. CaseOfficialCo Galaxy Space MacBook Case
Budget: Affordable
Price: $48.62
Key features: Uniquely designed MacBook Air case with customization options.
Customization Availability: Yes
Well you know cases are basically to protect your device but you don't have to sacrifice over design. Here's why we love to include CaseOfficialCo MacBook Air Case in this list. The case is made with high-quality materials, having a charming and bright look. Firm and flexible for any kind of situations your laptop meets. It has a matte finish and is non-reflective, making it easier to see and admire, even in the brightest conditions.
You know you have that one friend who is obsessed with horoscopes. Well, this is an obvious gift option with a cute design and durable materials. Customization options also available.
9. KecShop- Macbook Case | Marble Collection - White Marble with Pink Black
Budget: Affordable
Price: $49.99
Key features: Feminine MacBook case design with marble prints.
Customization Availability: No
Specifically designed for MacBooks to serve the purpose of comfort and accessibility. The top and bottom of this case are covered with rubber oil paint, giving it a smooth yet grippy rubberized texture and also prevents from having fingerprints on it, from slipping and having scratches.

Sleek and glossy, this two-piece design also keeps your laptop stable and intact at all times.

If you love your MacBook so much, then it's time to get a case that protects it from any possible damages.
10. Kuzy Products: 2018 MacBook Air 13 inch Soft Touch Case - Newest Version
Budget: Affordable
Price: $50.00
Key features: Single-color design, semi-transparent MacBook case available in 5+ colors.
Customization Availability: No
(2020 Update) It is designed to fit the newest MacBook Air 13 inch with Retina Display, and no longer makes MacBook cases that are available for older MacBook Air models.
Kuzy Products MacBook Air Case gives your laptop a smooth, semi-translucent frosted finish that easily slips in and out from your bag while retaining a grippy edge for your peace of mind. It is a hard plastic case with rubber paint over top and bottom covers for a matte look and a silky-smooth soft touch.

Smooth yet grippy rubberized exterior texture to Protect your MacBook from scrapes and scratches.
Here's one bonus for sticking until the end :)
SPECK SEETHRU MACBOOK CASE
Budget: Affordable
Price: $49.95
Key features: Single-color design, semi-transparent MacBook case available in 5+ colors.
Customization Availability: No
Love Minimalism?
SeeThru Case would serve you the best if you're looking for a simple yet on-the-go protection, which tries to be as invisible as possible while still offering hardshell protection for the MacBook Air.

The case is divided into two pieces that quickly snap together, and includes all the necessary openings for various connections. If you like the style of this translucent case but not the clear version, there are a few primary colour options to choose from as well.
What Should You Look Before Buying Any Case:

The Protection offered by any case should be your first priority to look after before you purchase anything. As at the end of the day, it has to be protective enough to safeguard your laptop. And all these can be tested by the durability, accessibility and reliability. While there are lots of funky and cool designs out there in the market but you should give more care as not all have the same standard and the quality.
If you are reading this article then, you're likely to buy one and here are some points that you should look at:
Drop Test: As in unfortunate incidents, there could be a time where you might drop your MacBook. But lemme tell you the damage can be avoided if you are using cases that pass the drop tests. At SlickCase we perform the drop test to each and every case that we make and we take the responsibility to make the perfect case for you.

Size: Well we can't dwell more on the size of a case as it's the upmost thing. You don't want a case that's not exactly the size of your laptop and you're keep struggling with it. MacBook Air is all about the slickness, don't you guys make it bulkier with a wrong size.
[Tip - be sure to double, or triple check your MacBook model before buying a MacBook case (especially if you're gifting it) - here's a useful link to help you confirm your MacBook model.]

Fit: Always be on a lookout for a case which tightly fits your MacBook. If it's not tight enough then your MacBook is allowed to slide around inside the case, then it is far more likely that it will scratch easier or even damage the hardware components that otherwise require the machine to be as stationary as possible when the device is running. For a tighter fit, some of these cases use magnet or zipper enclosures depending on their design.
[Tip - read reviews carefully before you buy from any brand.]

Weight – You would never want to add more weight on your MacBook Air and you gotta be so precise of selecting a case doesn't make your laptop bulkier. Also, consider that heavier devices take more damage if you drop them, which will defeat the whole purpose of using a protective case to begin with.

Accessibility – Another big thing to consider when buying a MacBook case is easy accessibility to use all the ports. An overly protected case will make it a sleeve and it won't serve the purpose. This list of Top 10 MacBook Air Case will help you select the best MacBook Air Case out in the online stores.
Collection 2019
Sale 70% Off
Title for image