Slick Case 2020 Recap
Posted by BETH SLICK CASE
Despite all the uncertainty in 2020, one thing was certain for us - we continued to work hard on our mission to inspire confidence, diversity and individuality through our #SlickSleekStylish designs for owners of MacBook, iPhone, AirPods, iPad, Apple Watch, and other tech devices.
Here's a recap of what we did in 2020:
---
We Helped People Work Safer & Cleaner During Covid-19
Staying safe and clean is a top priority for, well, the world in 2020. Many people rely primarily on their MacBooks and iPhone to get their work done, and Slick Case's products were able to help people work safer and cleaner due to their removable, washable and protective nature.
Read more on our blog 5 MacBook Cleaning Tips to Help You Work Cleaner & Safer During Covid-19.
---
100 New Designs Added in 2020 To Inspire Diversity
Slick Case designs are all about embracing trends while keeping uniqueness. With that in mind, we were able to create a great variety of designs ranging from cute patterns that feature colorful fruits and animals to avant-garde abstract geometric designs, festive designs filled with holiday spirits, elegant rock textures to our bold experiments of mixing different trending elements. Everyone can find a perfectly designed case that is a unique statement of who they are. Our designs are both inclusive AND exclusive and we won't stop our mission creating a community of fun, beautiful and confident people.
---
More Protection & More Options with 50+ New Package Designs
Aside from the looks, functionality has always been the reason behind the popularity of Slick Case products, and there is nothing that better demonstrates both qualities than our packages. Packages are bundles of protective products in matching designs and discounted prices. Our most popular packages include "MacBook + iPhone Case Package," "MacBook Protective Package" and "MacBook Sleeve Package". In 2020, we've added 50+ new packages with new designs.
---
Kept Up With The Latest MacBook & iPhone Models
We work hard to keep up with every new product launch Apple made to make cases for the latest MacBook & iPhone models. During 2020, we've included MacBook Pro 2020 and MacBook Air 2020, iPhone X, iPhone XR, iPhone XS, iPhone XS Max, iPhone 11, iPhone 11 Pro, iPhone 11 Pro Max, iPhone SE, iPhone 12 Mini, iPhone 12, iPhone 12 Pro and iPhone 12 Pro Max models to our options. No matter what device you have, we wouldn't want you to feel left out!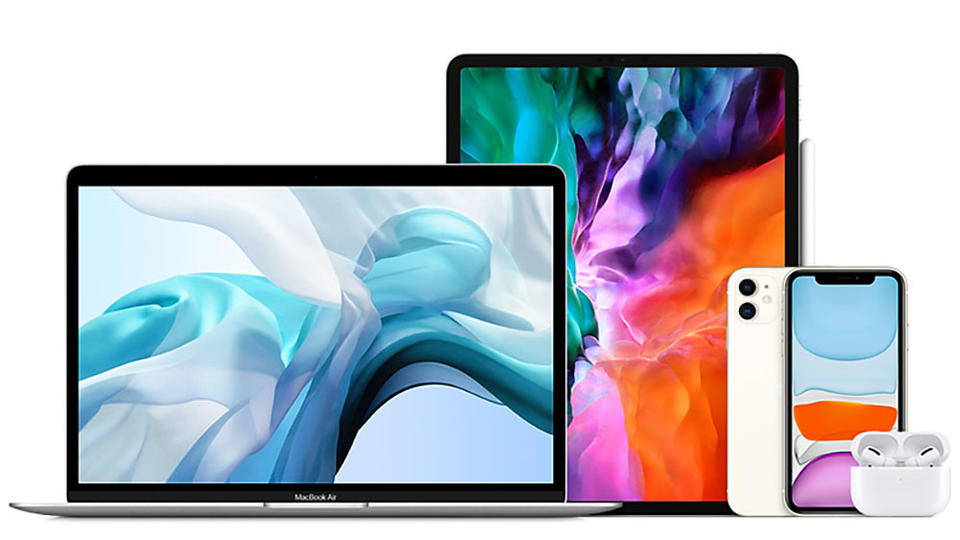 ---
iPad Case users, welcome to the Slick Case family! By popular demands, we now make iPad cases in the same #SlickSleekStylish designs so you can match all of your devices in the same, dashing prints! There aren't many designs yet but more are coming soon!
---
Hosted 10 Giveaways + 1 Campaign
Throughout 2020, we have hosted 10 giveaways and 1 campaign that inspires self-expression (#MyTintMyPrint) on our social media. We thank every one of you who participated in our giveaways and campaign. It is meaningful engagements with our community that made us the brand that we are today, and we look forward to another year of connecting with you.
---
"At the core of Slick Case's brand value is our passion for arts & humanities, lifestyle and self-expression. When Covid-19 swept across the world in 2020, we continued to share the passion through our designs. During the last quarter, for example, attentively designed color palettes featuring warm yet bright colors sent our message of hope and positivity to the Slick Case community in response to the collective anxiety that the world was going through. Stepping into 2021, we hope to further amplify this message through visual designs and our brand identity. We will be in rapport with anyone that needs us during the pandemic. Stay safe, stay strong, and stay slick!"
"Being born into an evolving digital era, we noticed the tech space lacked a sense of clean, highly elevated yet protective options. We are proud of what we have achieved in 2020 and now we are at the forefront of tech protection bearing in mind an aesthetic expression. Our goal is to create endless style possibilities through an ever-expanding range of designs and branching out to other devices, putting you at the centre of it all. We look forward to what the future has in store for Slick Case. We thank you from the bottom of our hearts for aiding in our success and making this journey ever so vibrant."
-Sarah Chan, Co-Founder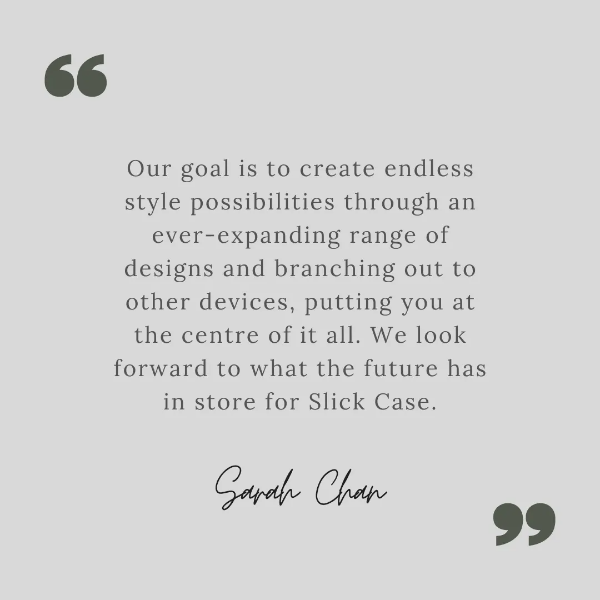 ---
Thank you all for an amazing journey with us in 2020. We look forward to a year full of peacefulness, inspiration, and happiness in 2021!
Collection 2019
Sale 70% Off
Title for image