Personalized Gift Guide: 10 Thoughtful and Practical Unisex Gift Ideas
Posted by BETH SLICK CASE
Picking the perfect gift can be a tough task, but if done right, the sense of achievement & the bond that it can create is priceless! Custom-made gifts have been around for some time and custom gifts have been made more creative and affordable over time. Adding a little touch of personalization can make people feel very important and there is no better way to give a gift like you care. Let us share with you our top picks in these 4 categories - custom apparel, custom tech accessories, personalized stationery and custom home accessories. Before we start with the items, we also listed out some great personalization ideas to help you personalize and plan your gift.

Creative Personalization Ideas
What comes in mind when you think of a personalized gift? Here's a list of personalization ideas, for girls and boys, family and friends, to help you perfect your gift. It's never too early to start planning and research for the perfect gift, so read on!


Names & initials - The classic that could never go wrong.
Everyone has a unique name. You don't have to know a person inside out to know their name/initials, so this idea works well for acquaintances, close friends, loved ones, and really just anyone. It comes as no surprise that this is perhaps the most common form of personalization on gifts.


Dates - Be remembered at least once a year!
Do you have a special day with the person you're sending a custom gift to? It could be a birthday, an anniversary, a holiday that has a special meaning to them, the day when you did something funny together or the day. The best thing about this gift personalization idea is that dates reoccur - so this gift, if done right, will be remembered every year!


Travel memories & places - Take them back to that perfect memory.
Stretch your imagination beyond the "person" in the word personalization and think about a place or a travel memory this person may have. People can have long-lasting connections & emotions with a place of significance. Bring back that precious memory with a travel memory. Have a perfect travel photo? Even better! With custom-made gifts being hugely innovative right now, you could surely find a more creative gift idea than framing that photo! A personalization idea to consider for your close friends, travel buddies, and family members.


Favorite colors - One shade away from being the perfect custom gift.
What good is a great gift in the wrong color? Everyone has their favorite (and least favorite) colors. With plenty of companies offering readily-made gifts with the option to customize colors, you can utilize colors as a personalization idea, and your gift is one shade away from being more thoughtful and personal.


Meaningful texts - Say it!
We've talked about names and initials on custom gifts, a safe option that could never go wrong. But if you know the person beyond their names, you could try other forms of texts such as quotes, a funny catchphrase, or what you'd like to say to that person. With the power of words, this personalization idea could add context to your gift and make the gift even more meaningful.


Pets - People with pets are the easiest to impress.
Does the person you're sending a gift to have a pet? If so, congrats! Pet people are easy to impress because they are OBSESSED with their pets 24/7, so this personalization idea is a no brainer that will work 100% of the time. Any pet-inspired accessories or better, custom-made gifts with their pet's name, photos or paintings on them will surely put a big smile on them!
We hope these personalization ideas helped you plan that special custom gift for that special person! Now that you have a more concrete idea in mind, that's take a look at some of our top picks for customizable unisex gifts. All our picks are non-gender specific, and we aim for gifts that are more on the practical side (so they will actually use them!). Some other key factors that we took into consideration include - product quality, creativity, size of product range (the more the merrier!), etc to help you explore your choices and plan the perfect personalized gift!
---
Custom Design Clothing/Apparel Gifts

Our first category is clothing and apparel, because not just girls, everyone likes a fresh piece of good-looking clothing! You can go an extra step and customize apparel gifts with the right colors, or add embroidery that would make it more significant. Here are our top picks for customizable apparel gifts: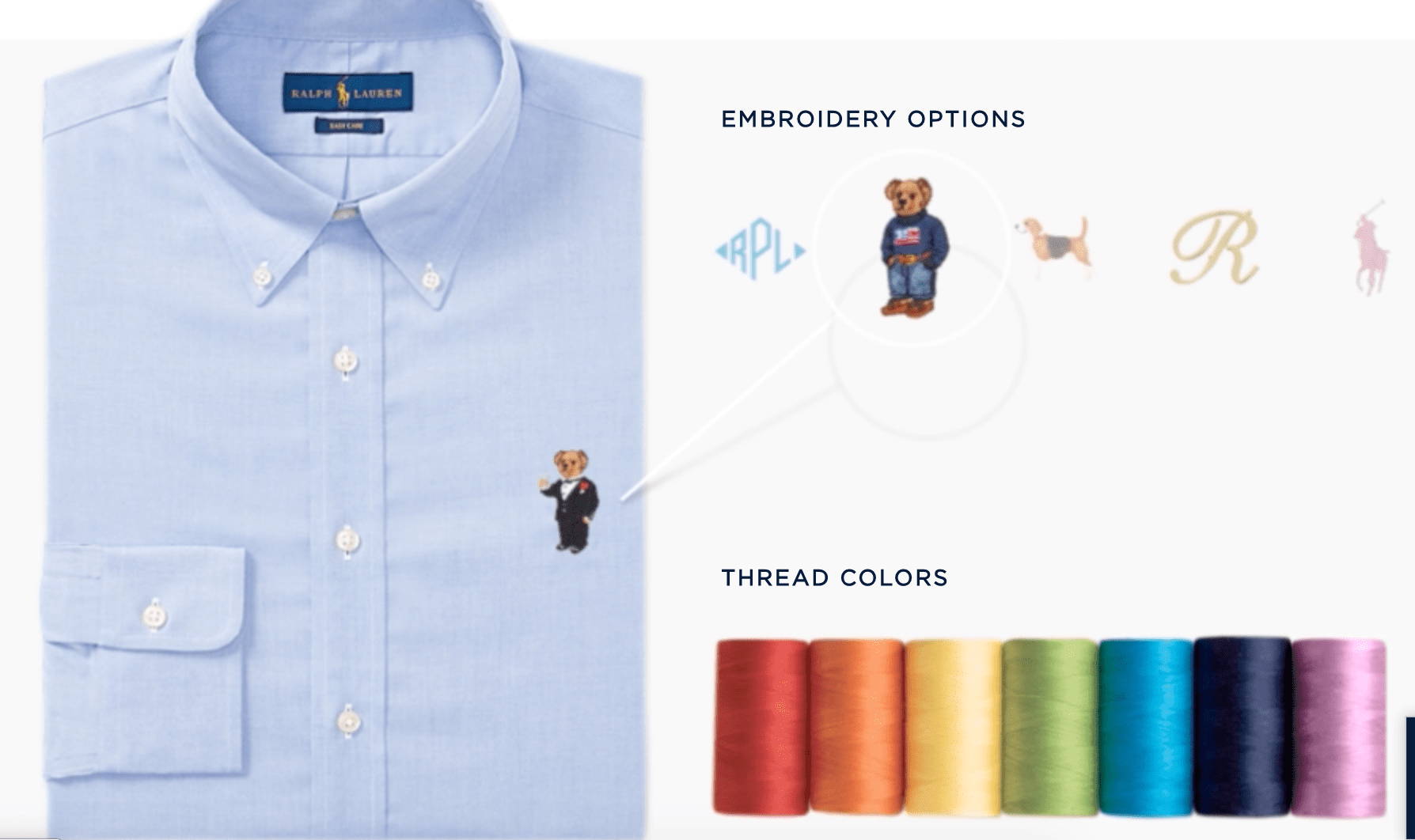 Polo Ralph Lauren is perhaps one of the most popular apparel brands in the US famous for producing high-quality clothing and accessories. We know that being widely popular is probably the opposite of what you should look for in a unique custom-made personal gift, but did you know they have a custom shop now? You could customize some of their most iconic clothing designs without sacrificing on quality. You could customize colors, monogram, and choose what to print on their wide range of classic designs - polo shirts, t-shirts, cardigans, cashmere jumpers, etc.
Price: A bit on the high end, from $55-$300
Customization options: knit, embroidery, prints
Ideal custom gift for: Mom & dads, boyfriend, young professionals
Collection 2019
Sale 70% Off
Title for image