5 MacBook Cleaning Tips to Help You Work Cleaner & Safer During Covid-19
Posted by BETH SLICK CASE
You've probably read a lot of tips on how to work more efficiently on your MacBook during COVID-19, but have you paid enough attention to keeping your MacBook clean so you can work safer? When was the last time you cleaned your MacBook? If you work on your MacBook, it is one of the things that you touch the most throughout your day, so aside from washing your hands, here are some MacBook cleaning tips for you.
No matter where you work from, here are our top 5 tips on how to work cleaner and safer on your MacBook (or any other laptop) during the pandemic:
---
1. Wash your keyboard cover
This MacBook cleaning tip made its way to the top of our list because you may not pay much attention, but the keyboard on your MacBook is arguably the dirtiest part of your MacBook. Think about the number of times your hands touch your keyboard everyday - and the number of times your hands touch something else - we're talking about food, chairs, picking up a pen from the floor - even if you're staying completely indoors only.
Yes, washing your hands frequently during Covid-19 is crucial but that alone does not keep your MacBook keyboard clean enough. If you want to make sure your MacBook keyboard is clean, one of the best practices is to use a MacBook keyboard cover  AND clean it frequently. If you don't have a MacBook keyboard cover yet, it is a thin layer of protection that does not interrupt your typing experience, and is removable, washable and reusable. We recommend having at least 2 keyboard covers and wash & change them every 2-3 days to keep your MacBook clean at all times.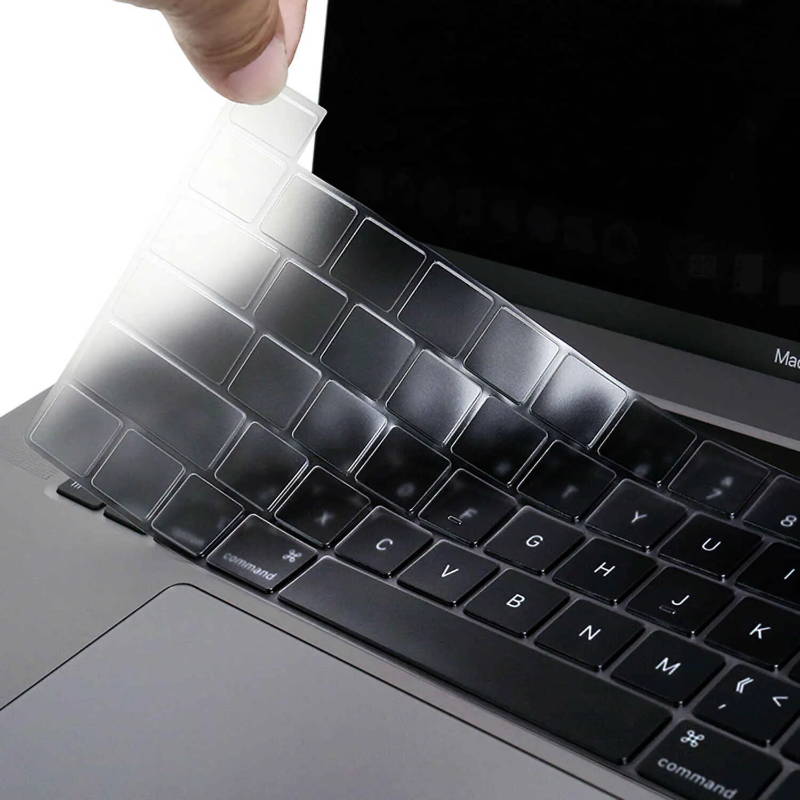 Alternatively, you could also wipe your MacBook keyboard with disinfectant wipes, but we don't recommend doing it more than 1 time a week as there is a chance the moisture could get in between the openings of the keyboard.
Even when Covid-19 is over, this is still a good habit to have to protect your keyboards from dust, food crumbs and also protect yourself from accumulated germs when you work.
---
2. Clean your trackpad with disinfectant wipes
Similarly, your trackpad is another part of your MacBook that needs to be cleaned frequently. But unlike keyboard covers, current MacBook trackpad covers you can find on the market are mostly non-reusable. It serves its purpose protecting your trackpad from scratches but does not really come in handy when it comes to hygiene purposes.
Our next MacBook cleaning tip is that for trackpads, we recommend cleaning with disinfectant wipes. Compared to your MacBook keyboard, the trackpad is a much flatter surface and has less openings, which makes cleaning with disinfectant wipes a quick and effective option. Please remember to completely shut down your MacBook and disconnect it from power before doing so.
---
3. Wipe your (protected) screen
Next up on our MacBook cleaning tips is to clean your screen. It makes a lot of sense this comes just after cleaning your MacBook keyboard cover and MacBook trackpad because when you close your MacBook, your screen touches both. You don't need to clean your screen that often because you rarely touch it, but it is still a good idea to clean your screen every once in a while if you want to work cleaner and safer. (If we've learned anything at all during Covid-19, it's that you can never be too careful.)
To clean your screen, shut down your MacBook and unplug from power, use a soft cloth to wipe your MacBook screen. It may be tempting to wipe your screen with alcohol especially during a pandemic, but according to Apple, it is not advised. In fact, any liquid could cause harm to your MacBook screen. Especially beware NOT to spray any liquid or cleaners on the screen.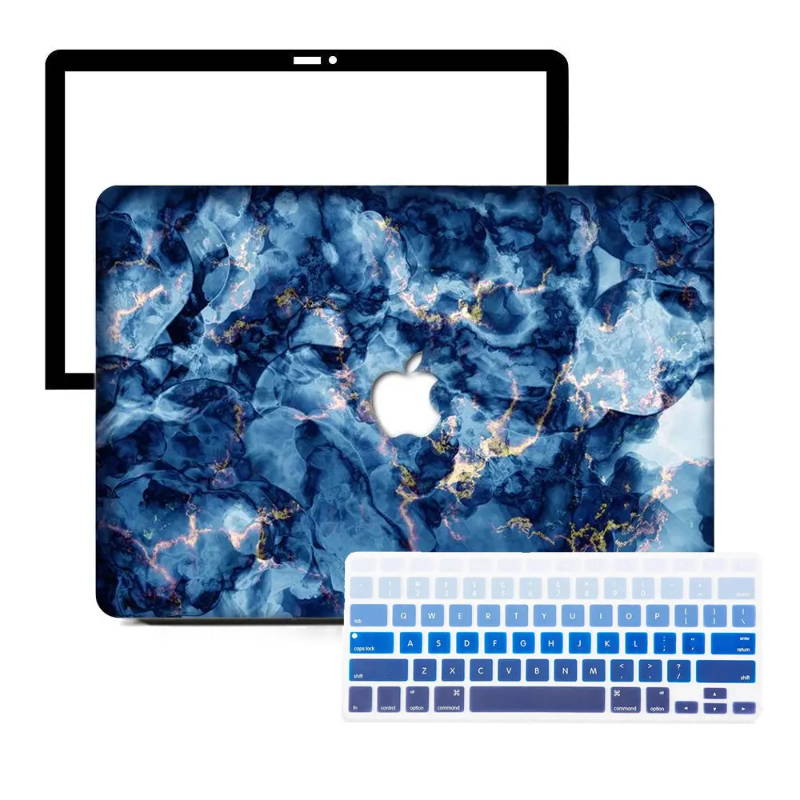 Since wiping your MacBook screen with liquid or cleaner is not really an option, keeping your keyboard and trackpad clean with tips 1 and 2 is strongly advised. If you want to be extra careful and disinfect your MacBook screen, a safer practise is to apply a MacBook screen protector. Not only does the protector shield your MacBook screen from scratches, it also makes cleaning a lot easier.
---
4. Store in MacBook sleeves when going out
As long as Covid-19 is still widespread across the world, stay home when you can. But if you have to go out to work, here's a tip to help keep your MacBook clean while you're commuting or in the office - keep your MacBook in a sleeve, always.
Exposing your MacBook in public air is risky. You don't want your MacBook exposed in the air for the same reason you're wearing a surgical face mask, and since you can't really "wash" your MacBook, it's even more important to keep it clean and safe in a sleeve.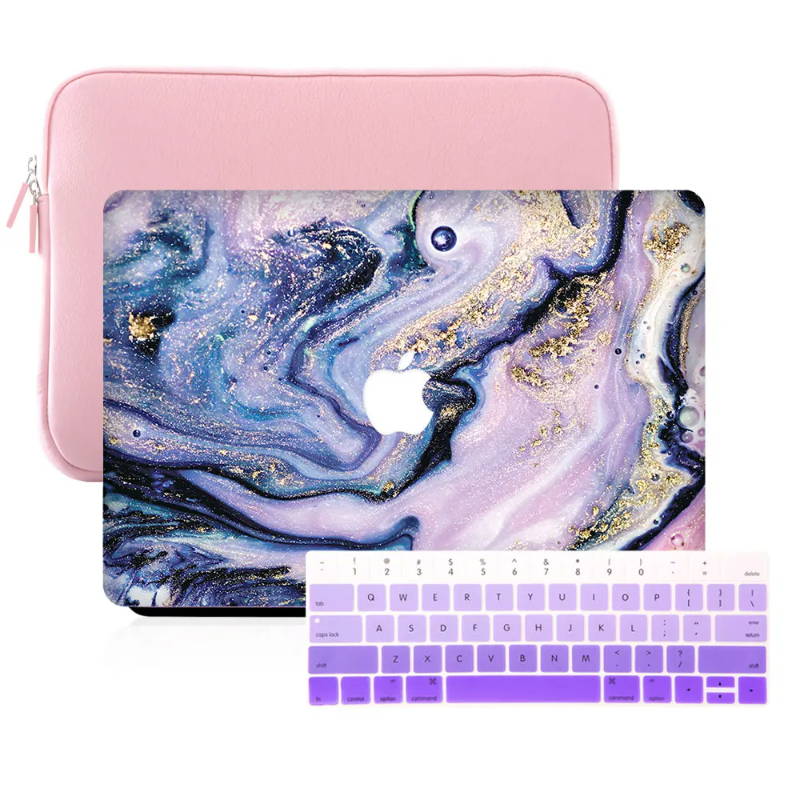 The best practice would be to take your laptop out from the MacBook sleeve, wash your hands thoroughly, and then use the MacBook. If possible, also consider cleaning your MacBook sleeve everyday when you get home by either giving it a quick rinse or wipe it with alcohol. Consider investing on a durable waterproof MacBook sleeve. Waterproof MacBook sleeves make cleaning on a daily basis possible and will keep your MacBook safe and dry at all times when you commute.
---
5. Always wash your hands
Our last tip is one that cannot be stressed enough during COVID-19. Wash your hands, as often as you can, and do it the right way. We have chosen to highlight this again because although accessories like MacBook keyboard covers, MacBook screen protectors and MacBook sleeves can help you keep your MacBook clean, preventing your MacBook from exposing to viruses and germs in the first place is just as important.
Wash your hands before you use your MacBook, use the right accessories to clean your MacBook often, and then you can focus on your work!
---
Key Takeaways:
Protect your MacBook with a keyboard cover instead of cleaning the keyboard to avoid getting moisture in the openings

Clean and change your MacBook keyboard cover at least once every 2-3 days

Wipe your MacBook trackpad with disinfectant wipes (remember to shut down and unplug your MacBook)

Use a MacBook screen protector and clean the protector to avoid harming your MacBook screen

If you have to go out, protect your MacBook from public air using a sleeve

Clean your MacBook sleeve frequently (we recommend choosing a waterproof sleeve)

Always wash your hands before and after you work on your MacBook!


Read about more quick tips & cool accessories to help you take proper care of your MacBook.
Recommended Products
---
Collection 2019
Sale 70% Off
Title for image