Top 5 Tips For 1st Time Pet Owners and Pet-Inspired Accessories
Posted by BETH F.
First-time pet owner? Worry not! Your fellow pet owners from the Slick Case community are here to share their experiences with you. We've asked 5 pet parents to share the best thing about having a pet, best tips for 1st time pet owners and more. We've also curated a list of some cool pet-inspired accessories to express your love for your new pet. Read on!
1. "We are encouraged to be better people everyday!"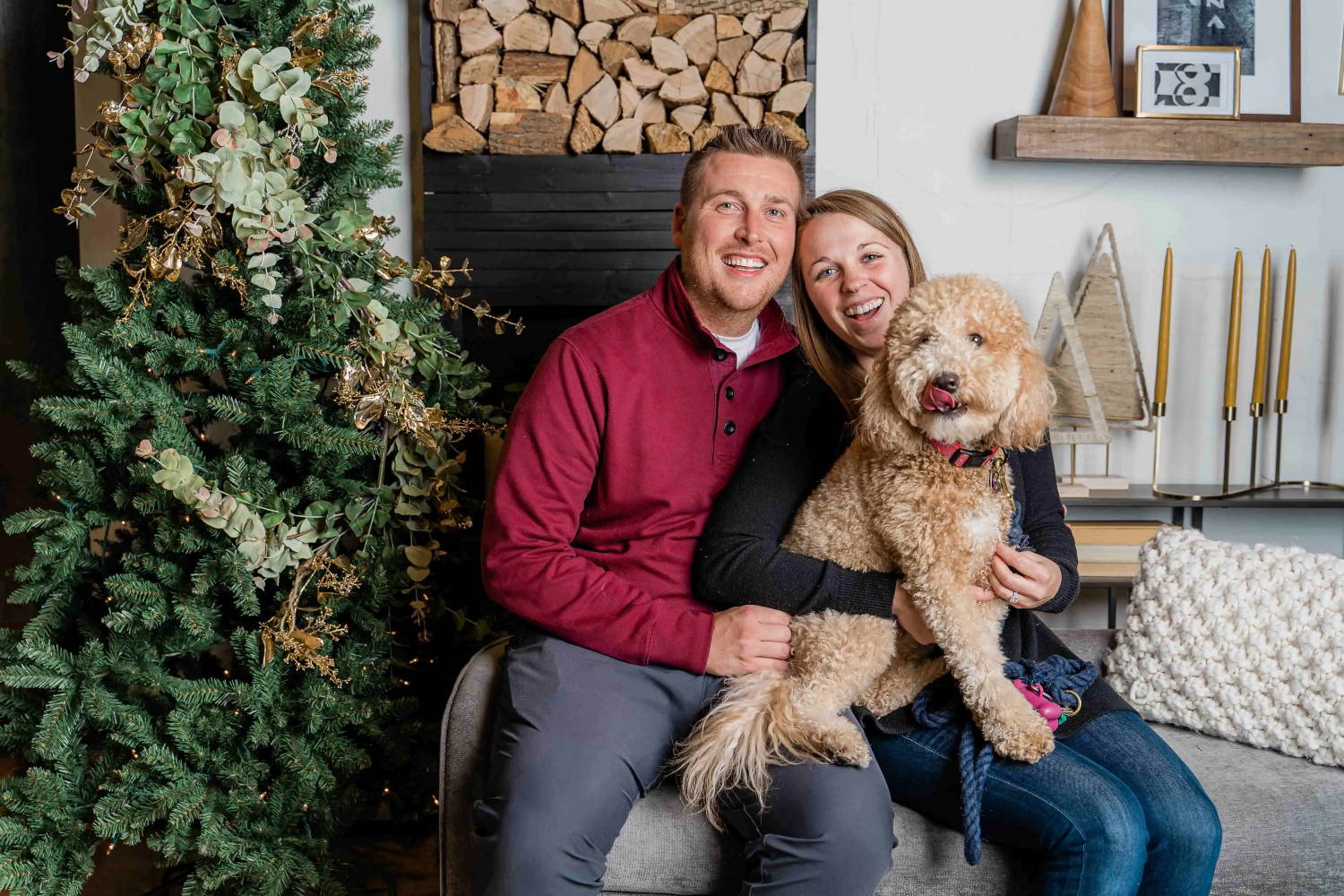 Tucker is a 2-year-old-to-be mini goldendoodle living with his mama (Katie) and papa. Tucker shares the family's love of traveling and exploring, and his favorite thing to do is to go on walks and explore the new city that they've recently moved to!
"Tucker encourages us to be better people everyday! He has the sweetest soul and is always such a happy pup! Our life is so much better with him in it! "
We love the bond between Tucker and his parents. Tucker was even there on his parents' big day, how sweet is that?
Katie's best tips for first time pet-owners:
"My best tip for a first time pet-owner is to be patient! It can be very overwhelming for a dog to be in a new environment without the things it's used to. If things are tough at first, just know it will get better and easier over time. It just takes time! "
Katie & Tucker's favorite activity to do together:
"Our favorite thing to do with Tucker is go on walks. We recently moved and love exploring this new city with him! "
Follow Tucker the mini goldendoode on Instagram https://www.instagram.com/tucker_minidood/
2. " I ended up getting the best of both worlds - my forever life partner AND a fur baby! "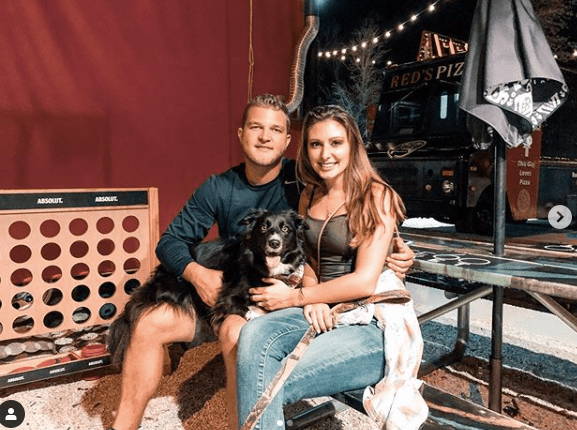 It isn't exaggerating to say that Koa and her mama are meant to be a family! Sarah shared with us that her partner already had Koa when they met and that she and Koa "instantly clicked and became best friends"!
Sarah and Koa love to do everything together. One of their favorite things to do is going to Starbucks together and studying, among many other things such as going to the beach and shopping.
We love the little story of how this cute family was brought together! Animals and pets can give the most pure and unconditional love, and the positive energy helps attract good people into your life too.
Sarah's best tips for first time pet-owners:
"Expose them to as much as you can as young as you can! The best part of having a fur baby is being able to take them around everyone and everything without worrying! They want to explore as much as they can. Have patience, they are just trying to learn the world! A routine is great for puppies [as] it helps them know what the day holds for them. "
Sarah & Koa's favorite activity to do together:
"Koa loves making trips to Starbucks with her momma for a puppachino. Koa is a proud supporter of studying with me in style with Slick Cases! "
3. " When you feel that your pet is happy and loves you it's amazing! "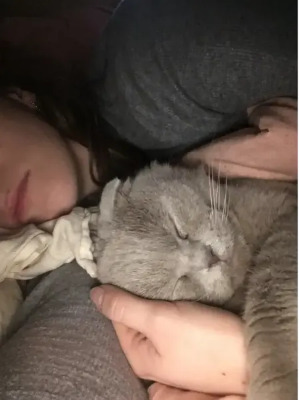 Sloane is a social worker whose passion lies in bullet journals (if you're interested in bullet journals, follow her amazing instagram account) and art. Leonie is her furry best friend and our first pet cat in the article. The name "Leonie" has a heart-warming story behind it - it is a combination of "Lili" (a white cat) and "Neo" (a black cat) that Sloane grew up with but passed away. Leonie also happens to be a grey cat - a combination of black and white.
It warms our heart to see the little story behind Leonie's name. She surely is a wonderful gift and a great company to her mama. Even though cats are in general less physically active, they express their love in their own ways. If you love them they love you back the same!
Sloane's best tips for first time pet-owners:
"I think you have to be ready and prepared to take care of your best the best way you can. Pets need time and you have to give it! "
Sloane & Leonie's favorite activity to do together:
"Definitely sleeping ! I love taking a nap with her and so does she."
4. " It gives us a life lesson in responsibility. "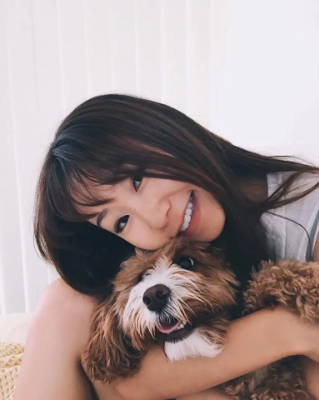 Meet Hero and his mama Emily from Australia. Having loved animals her whole life, Hero is Emily's first and long-awaited pet dog! After begging her parents for years and after moving into a dog-friendly apartment, the family finally agreed to have a pet dog.
Emily shared some very practical pros and cons to consider before having a pet dog with us, including choosing a pet that fits your lifestyle and being 100% committed to it, financially and physically, and house-training your pet dog which requires a lot of time and patience. But for Emily, the pros outweigh the cons. Hero keeps Emily company all the time and going on a walk twice a day keeps both of them physically active and fit.
We love Emily's wise words. Having pets is not only fun and games, but also an important lesson in responsibility. In other words, you have to know and take care of yourself well enough to be able to take good care of another living being.
Emily's best tips for first time pet-owners:
"My tip for new pet-owners will be to consider the advantages and disadvantages I listed before. Research as much as you can. "
Emily & Hero's favorite activity to do together:
"Going to the beach."
Follow Hero the cavoodle on Instagram
5. " Coming home every day to him greeting you like he hasn't seen you in years, has to be one of the best feelings in the world. "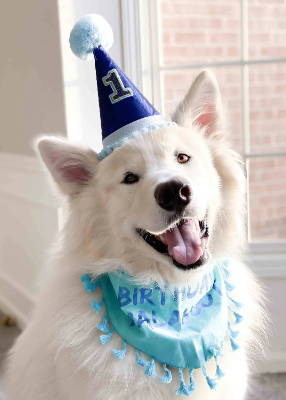 Storm is an all-white Alaskan Malamute pup living with his parents Stephanie and Kaden who love Crossfit and traveling. Stephanie shared with us that Storm has a unique neurological condition that requires a very regimented medication schedule that tends to run their day.
Aside from medication (4 times a day), Storm's typical day with his parents consists of morning breakfast and snuggle time, an evening walkie or meeting Storm's actual cousin Bok Choy who lives nearby. Storms also loves to "help" with leftover veggies from dinner, and enjoys bringing his mama some toys to play with after dinner time before having a treat and going to bed.
We love how happy Storm seems in this picture! Taking care of a pet can be challenging itself, not to mention taking care of a pet with special medical conditions. But Storm is for sure in very good hands and living his best life with his loving parents. The picture was taken on his first birthday and we can't stop the awwws.
Stephanie's best tips for first time pet-owners:
'Always be patient and keep in mind that it's never the dog's fault in training, but your own. Be consistent and repetitive and don't reprimand- simply correct. Do those things and you'll have an incredible best friend."
Stephanie & Storm's favorite activity to do together:
"Making dinner and getting ready in the morning. Storm loves getting all the leftover veggie scraps and belly rubs. "
Follow Storm the Alaskan Malamute on Instagram
It was a lot of fun taking a peek into these adorable pets living with different families with different lifestyles. We genuinely agree with the helpful tips for first-time pet owners as well.
To recap, here are the top 3 things you should keep in mind as a first-time pet owner.
Research as much as you can, before getting a pet and while taking care of it. You want to get the most accurate information available to help you make the best decisions for both yourself and your furry little friend!
Be patient. This is one of the most shared tips and we can't stress the importance enough.
Be ready and committed. Once you've made the decision to let a pet come into your life, you should stick to it and do the best you can. Be prepared to give your time, your love and your energy just like your pet would do for you!
Can't get enough of these adorable pets? We've also compiled a list of some pet-inspired accessories and customizable items to help you take your pet love to the next level!
---
1. Animal Party MacBook Air Case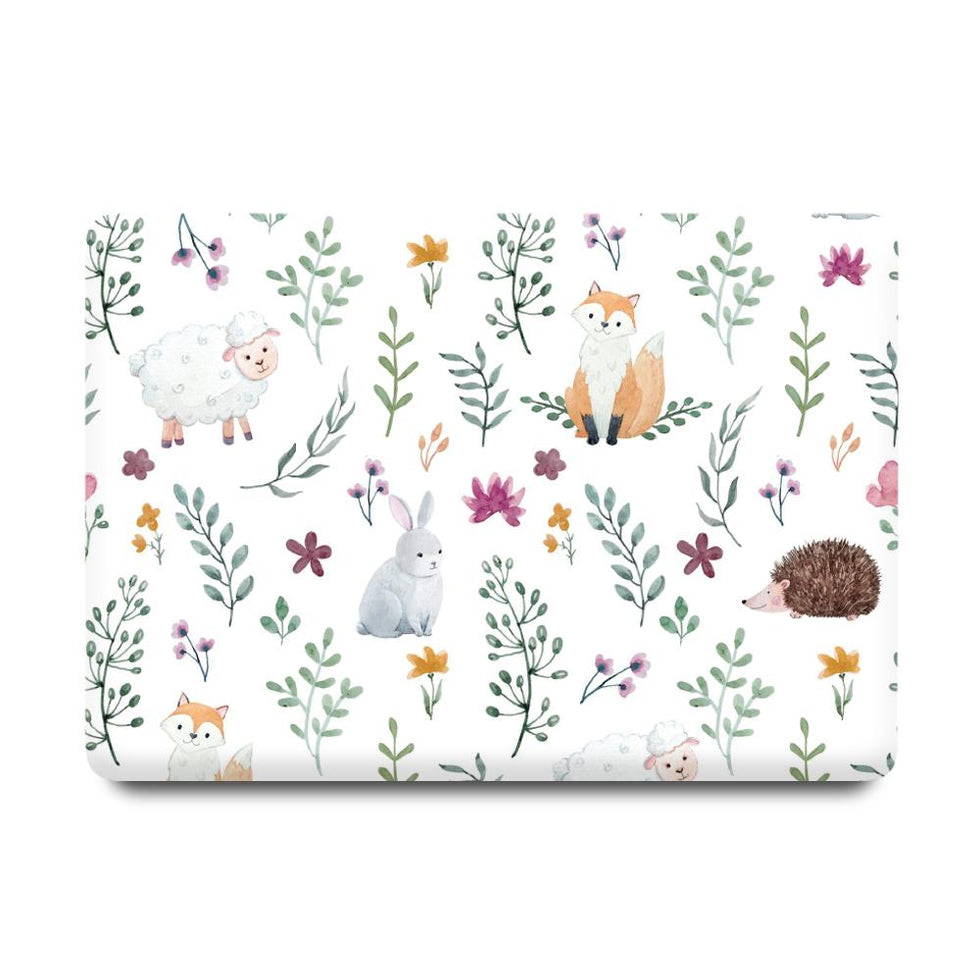 Are you always high on pet love?
Well, then you can't afford to miss out on this super temptingPet Garden MacBook Air Case by Slick Case. This MacBook Air case brings out your animal love in the best way possible. Not too subtle, not too loud! The cutting edge design speaks volumes about your personality and helps you get a spot of your own.
Not just that, this thin, lightweight and durable MacBook Air case is not just stylish but safe as well. It keeps your MacBook protected even if you happen to drop it by accident.
---
2. Custom Mug With Your Pet's Mark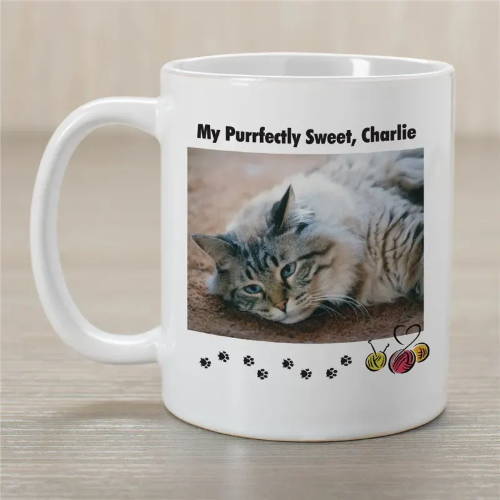 One of the best ways to spend some quality time with your pet is to eat with them. If you are a diehard pet lover, you will definitely love this custom mug with your pet's photograph on it.
Flaunt your love for your pet wherever you go with this customizable coffee mug. And if it is a cat that you have, then this is just "purr"fect for you! Every time you take a sip from it, you will be reminded of how much you love your cat. You may even get a sweet message or your pet's name printed, in case you already have something like a MacBook Air case with their photograph on.
---
3. Embroidered Paw and Bone Stocking
Well, it's true that you can never have enough of pet-inspired accessories because pets are just too cute, right?
Here is something that you can pick to declare your love for your four-legged friend: Embroidered Paw and Bone Stocking! The stuff (a blend of wool and polyester) is extremely soft to touch. Moreover, you may personalize the design the way you like. How about getting your pet's name or footprint embroidered with the paws in black threading? You may even gift this to your other pet lover friends and spread the love!
---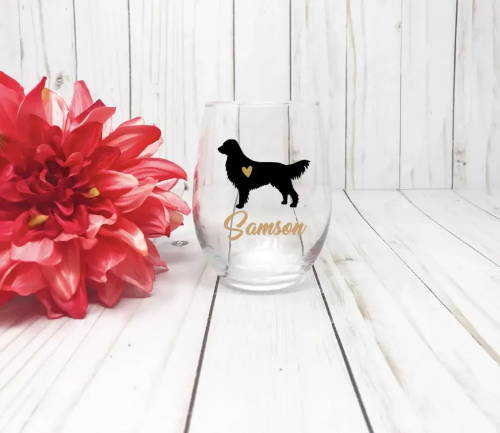 Love wine and your pet equally? Well, how about bringing them together?
This pet-inspired wine glass is a wonderful accessory for every pet lover to have. Why? Because it not only is pet-inspired but is also extremely classy. The heart detail and the addition of the pet's name are what you can't help but admire. You can choose from a lot of options and customize this according to the breed of your dog. In case you want to make the glass look even more appealing, you may find some glass stickers, something similar to your MacBook stickers and declare your pet love.
---
5. Custom iPad Cases With Your Pet's Name and Photo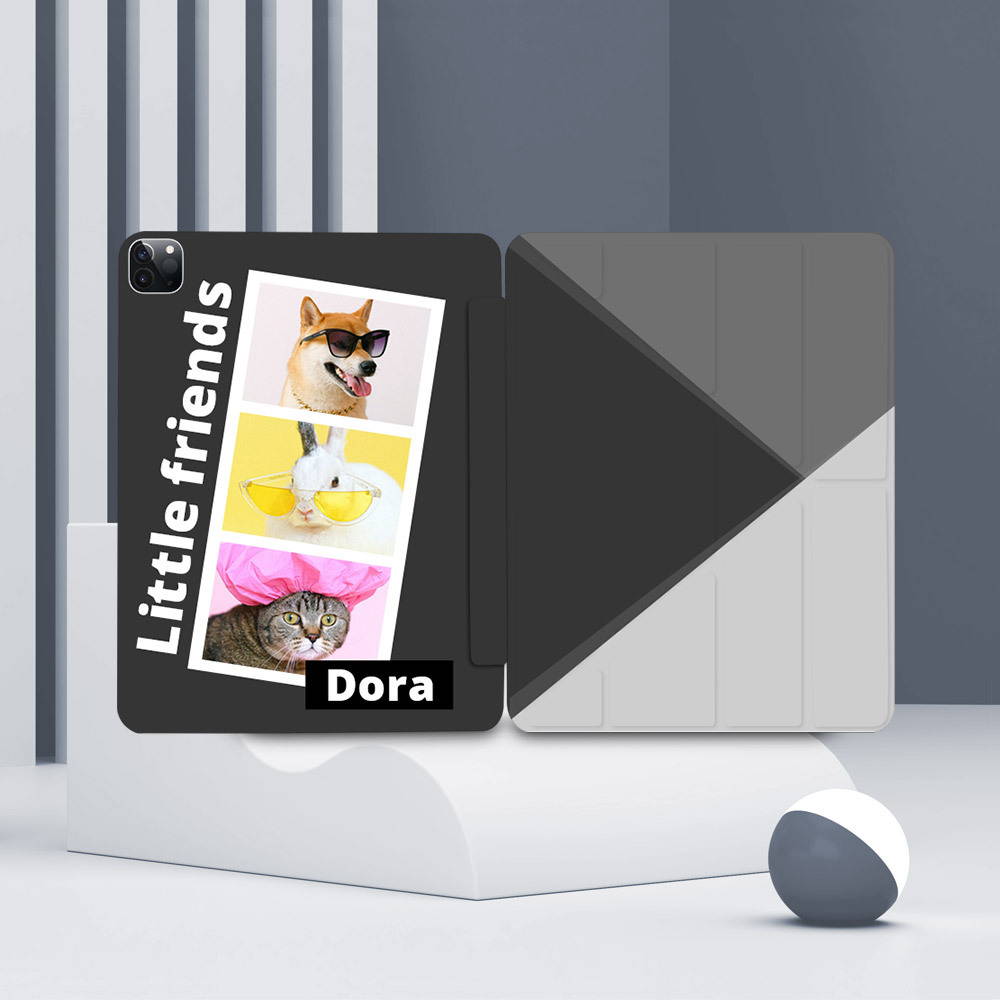 Pet lovers can never get enough of their pets. If it were up to them, they would never leave their pets alone, right? But, how about the times when you have to leave your pet alone at home and go to the office? Isn't it kind of a daily ordeal?
Well, you may not be able to carry your pet along to the office, but what you can do is check out this amazing collection of custom iPad cases by Slick Case. Get your pet's name printed on your custom iPad case and keep it along wherever you go! Or, get a selfie with your bundle of joy and get it printed on one of these custom iPad cases. No longer missing, right? These beautifully designed custom iPad cases allow you to customize the color to match with your photographs on the case. What's more? The case cover guarantees protection, so it's not just stylish but secure as well!
---
As much as you love your pet dog or cat, at times you just feel like you are not being the best pet parent. You may dote over them day in, day out but there are times when you want to go that extra mile. These pet-inspired accessories such as the MacBook Air case, MacBook stickers, and custom iPhone cases help you carry a memory of your pet along even if you are on the go. How did you find these ideas? Perhaps you have other recommendations?
Do let us know in the comments section below!
---
Collection 2019
Sale 70% Off
Title for image